We are OPEN for TELEPHONE or ONLINE ORDERS ONLY! - The Showroom is open by appointement to trade only
We are OPEN for TELEPHONE or ONLINE ORDERS ONLY! - The Showroom is open by appointement to trade only
Panels that make a statement
Cell Air - Stanford Hotel, Sydney
Justice Panel - High Court of Australia
Ceil Sound Panel - Private Residence, Sydney
Quiet Sound Lightweight Tiles
Perfect for Educational Environments
Shadex - Darwin High School
/ 4
/ 4
Australian Plaster Acoustics is a global leader in acoustic tiles and panels. We manufacture and supply high performance acoustic tiles that absorb and block unwanted sound. Australian owned and operated, our products are of the highest quality, made locally from natural gypsum.
Cost Effective
Cost effective ceiling and wall solutions
High Quality
With over 70 years experience, we deliver unrivalled quality and a proven track record.
No Distortion
Our tiles do not sag in humid conditions. They can withstand high humidity and temperatures
Anti-mould
Our tiles are painted with anti mould paint at the time of manufacture which stops growth of mould.
High Acoustic Performance
All products have been tested with NRC ranges between 0.55 to 0.85.
Simple Installation
Choose between an exposed grid ceiling system or a fully concealed, direct fixing system.
We manufacture innovative acoustic tiles with unrivalled performance
It showcases Australia's Plaster Acoustic tile manufacturing facility at Bailey Interiors and features the latest, innovative plaster tile manufacturing process.
SEE OUR LATEST WORK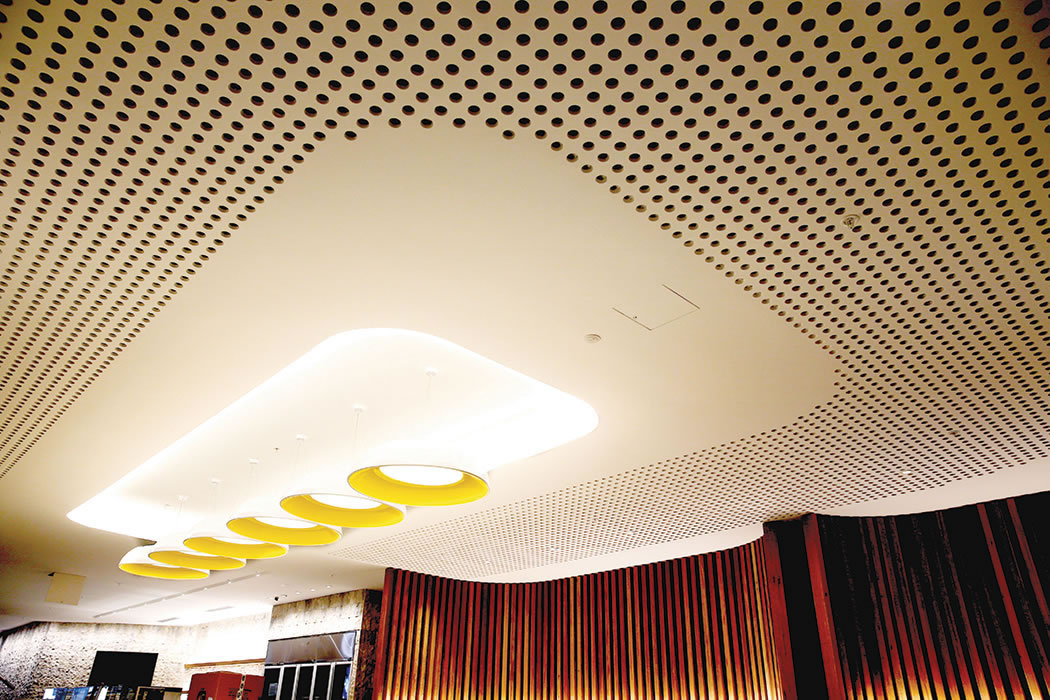 What our clients say about our work
We contracted Mr Bailey to provide and install decorative plaster acoustic ceiling tiles to the main areas of the new building, which included classrooms, the staff Common Room, our recording studio and Experimental Theatre areas as well as offices, public areas and reception space. We have been delighted with the exceptional acoustic quality of the installed product over the years, and the durability of this product stands for itself.

Rondo has been pleased to partner with Australian Plaster Acoustics in the development of its innovative plaster acoustic panels by providing specification assistance in the use of the Rondo Duo Exposed Ceiling Grid System in conjunction with their panels, thereby ensuring their clients have a code compliant suspended ceiling grid system to support their plaster acoustic ceiling panels.

Gyprock and Bradford are proud to be associated with Australian Plaster Acoustics and we feel confident that, based on our long association, Australian Plaster Acoustics will provide a high level of product quality, reliable service, trusted performance and industry compliance associated with their large range of plaster acoustic tiles.

After some research we found that Bailey Interiors range of ceiling tiles had the highest available STC/NR rating and a wide range of patterns available...the quality of the tile range is very high, even with significant travel to site the tiles stand up well.
Benefits of Installing Plaster Acoustic Tiles
Why install plaster acoustic tiles?
Reduces Echo
Large rooms or those with high ceilings are particularly prone to echoing. Control these distracting sounds and create a more peaceful environment by installing sound absorbing acoustic tiles. These are very effective at reducing sound from reflecting back and forth .
Noise Reverberation
Reverberation refers to the phenomenon of sound continuing to be present in a room because of sound reflecting off of surfaces. Plaster acoustic ceiling tiles provide large and effective surface area to absorb sound.
Dust prevention
In food preparation and other areas such as clinical areas or storage areas, where dust fallout can present a problem, a finished plaster acoustic tile ceiling that covers all conduits, piping, ductwork and open construction systems will minimise the risk.
Heat and Smoke Release
Our plaster acoustic tiles have been tested and obtained Product Group Number Classification 1 rating for ISO 5660.1-2002 Method of test for heat and smoke release. Click here for test results
High Light reflective
The more light that a surface reflects, the less need to for use of artificial lighting to compensate. The more plaster acoustic tile surface that occupies a room, the more natural light is reflected, saving energy in the long term.
Thermal Resistance
With a thermal resistance "R" value of 0.8, our acoustic tiles are able to resist heat flow. It means rooms stay warmer for longer, saving energy and ultimately heating costs

Plaster Acoustic Tile Commercial Applications
Commercial Applications of Plaster Acoustics Tiles
An outline of applications for plaster acoustic tiles in various industries .